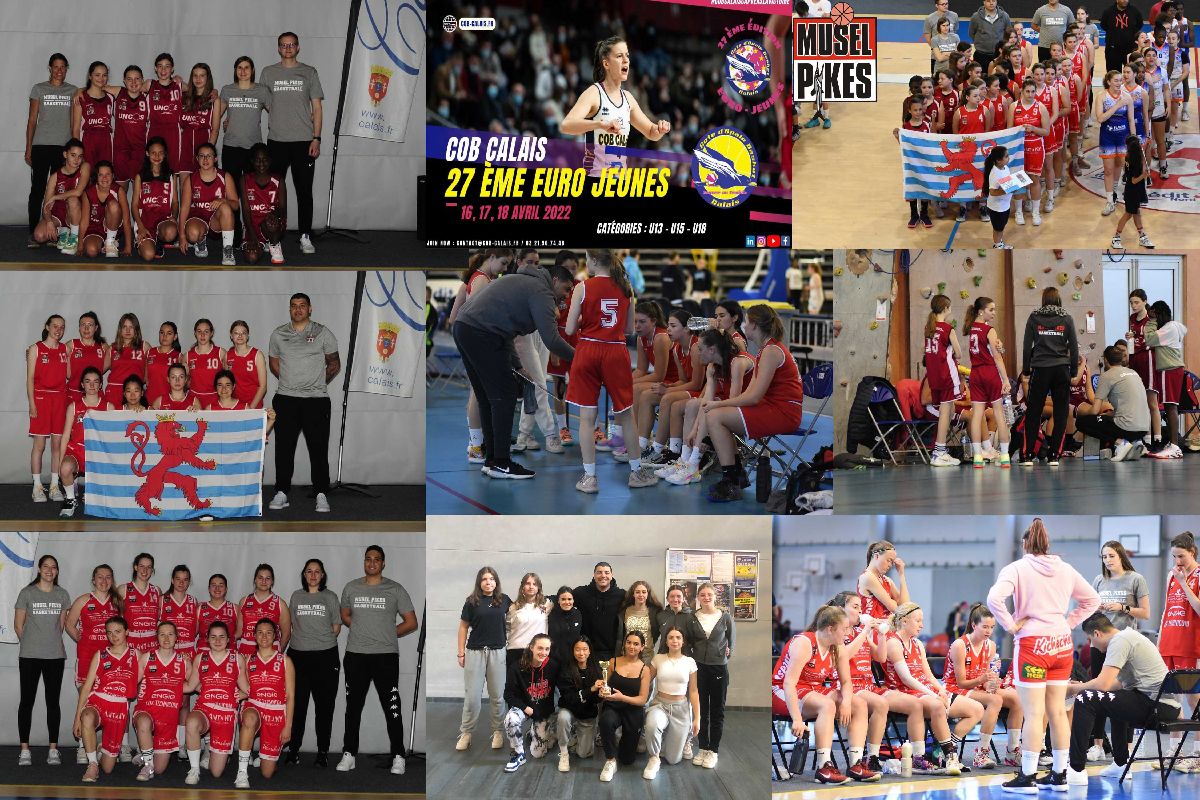 COB CALAIS Easter tournament with Pikes U13-U15-U18 girls
Pikes Female youth basketball lived a great experience during the last weekend.
Our club participated in the famous « Euro jeunes côtes d'Opale basket Calais » which reunited many youth clubs form different countries ( Spain / Belgium / France / Netherlands ).
Musel Pikes participated with three categories: U13 team ( coached by Gilles SURKJIN & Cathy SCHMIT - Team manager : Xenia SCHUMACHER) , U15 team ( coach : Majdi ANAN ) and U20 team ( Coached by Amir YAHYAOUI & Mikayla FERENZ - Team manager : Joette BORG).
The girls enjoyed the tournament high level of basketball, learned and competed against some famous « Centre de formation de basketball » and also had time to have fun and visit the city center and beaches of Calais.
U13 team managed to grab the 4th spot in their age category in this tournament ,
Behind The Spanish « CORDOBA » team, French « Dunkerque » and « Saint Cloud » basketball teams. The team of Coach Gilles & Cathy were able to surprise all opponents, as they succeeded to finish in the 3rd spot in the qualification games ( 3 wins , 2 defeats ).
Our U15 team ( 90 % of the girls had only 13 years old) was really unlucky,they fought every game against tough opponent, led the most of games but hasn't enough experience to win their games. The team of Coach Majdi lost two close games in the last 6 seconds of the both games ( 39-37 against the Belgian « Belleflamme » team & 32/31 against the French Hazebrouck » team who finished first in the group )
The team managed to win the ranking game (40 - 20 ) against ASPTT Boulongne sur mer .
Last and not least , the U20 team grabbed two wins in the tournament & secured the 5th spot. The girls showed a high level of basketball, competed and intimidated some
Pro- future selection such as Mons (Belgium) , AULNOYE (France) & COB CALAIS (France).
The girls enjoyed playing 6 games in the huge « Calypso » arena in front of the crowd audience nearly every game.
Our youth coordinator Majdi ANAN confirmed the participation of our youth female categories for next edition which will take place in Calais next spring.
Great experience and team building for our girls who want to thank both Musel Pikes club comité, youth commission for this opportunity and also the Club of COB Calais for the invitation and the great organization.