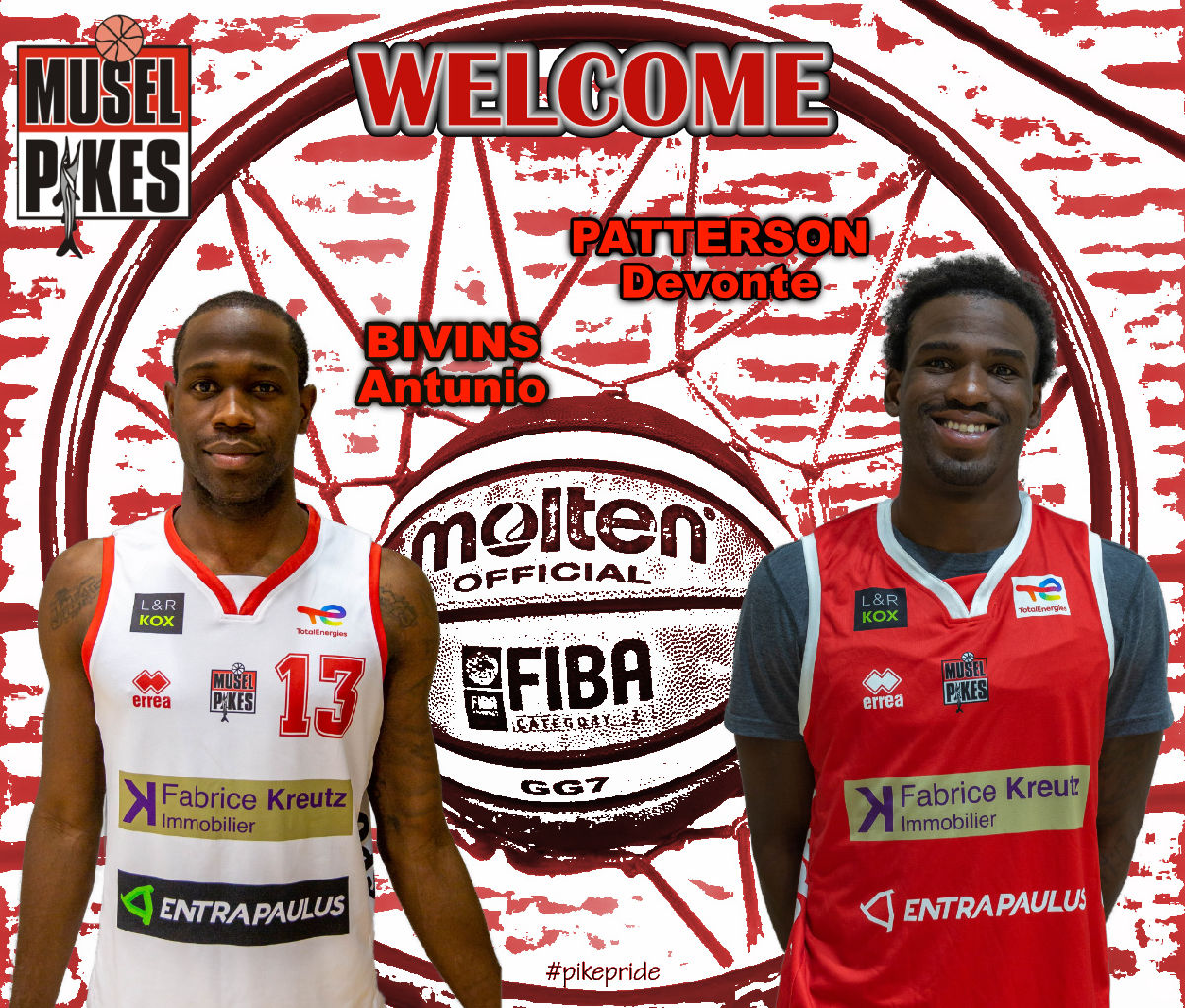 welcome Antunio - welcome Devonte
Mit Antunio BIVINS und Devonte PATTERSON haben die Musel Pikes zwei neue Profispieler verpflichtet.
Antunio BIVINS (30 Jahre 1,98 m) kennt den Luxemburgischen Basketball sehr gut und hat schon in 4 Saisons (58 Spiele) in Luxemburgs ersten Liga gespielt .
(26,9 Punkte/Spiel und 10,7 Rebounds/Spiel)
Antunio hat 2016-2019 bei den Kordall Steelers und 2019-2020 bei Résidence Walferdange und 2022 bei BC Mess gespielt.
Devonte PATTERSON (26 Jahre 2,01m) kommt aus Bridgeport Texas und hat für die Lakeland Magic in der NBA G League gespielt. Er war 2020 SWAC player of the year.
2022 spielte er in Mexiko für die Rayos de Hermosillo 
Herzlichst Willkommen Antunio und Devonte
.................................................................
Musel Pikes signed two new professional players : 
Antunio BIVINS (30 years 1.98 m) knows very well the luxembourgish basketball and has already played 58 games in Luxembourg's first league  (in 4 seasons) , making 26.9 points/game and 10.7 rebounds/game.
Antunio played for the Kordall Steelers (2016-2019), Résidence Walferdange (2019-2020) and BC Mess (2022).
Devonte PATTERSON (26 years, 2.01m) born in Bridgeport Texas played for the Lakeland Magic in the NBA-G League (2020 SWAC player of the year).
In 2022 he played in Mexico for the Rayos de Hermosillo
Warm welcome Antunio and Devonte